Recently renovated holiday apartments for families on Lake Garda, in the heart of Valtenesi, a few steps from the great beaches of the village.
Planning a holiday when you have children, especially small ones, requires special attention. It is not possible to go on an adventure and it is necessary to ensure that all the necessary comforts and services are present in the place and in the tourism establishment of our destination. Obviously, fun, nature, tranquility and many beautiful things to see must not be missing ... otherwise what a holiday it would be! It is for these reasons that we present our
holiday apartments for families on Lake Garda
at the Residence il Molino.
Holiday apartments for families on Lake Garda
We are located in Manerba, the west coast of the largest lake in Italy, in the middle of the Valtenesi hills famous for the production of excellent oil and wine. Completely immersed in the typical nature of the place, here are our apartments for your holidays: 12 recently renovated three-room apartments, with an area of ​​55 square meters, perfect to accommodate up to 5 people. They are all furnished in a modern and welcoming style, have a beautiful terrace to admire the view and are equipped with all the necessary services: bathroom, safe, satellite TV, towels and sheets, in many even air-conditioning. What more could you ask for?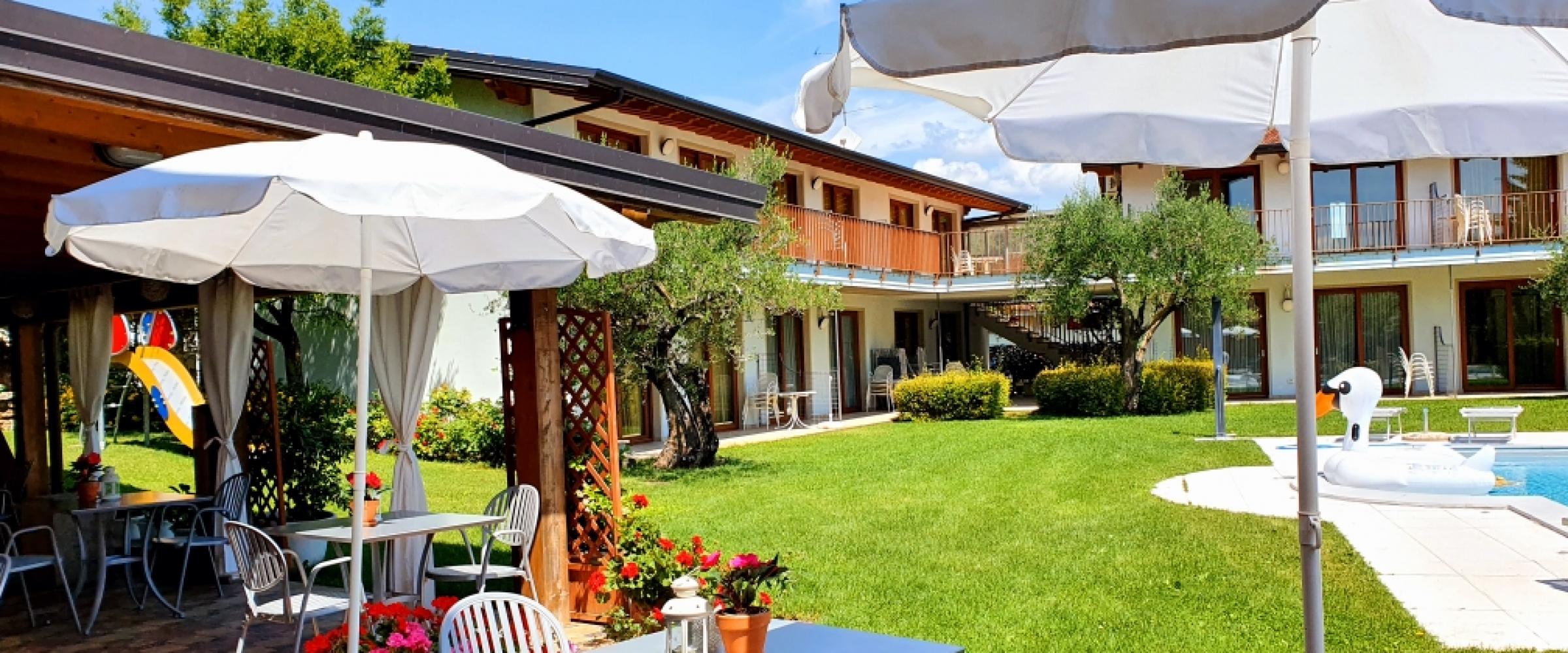 Why book one of the family holiday apartments on Lake Garda 

What are the advantages of staying in the three-room holiday apartments of the Il Molino residence? 


1. First of all, you will have all the comforts of a private apartment at your disposal, including complete privacy and the possibility to sleep and cook comfortably just as if you were at home. We know kids can have a hard time eating new dishes when travelling, but fear not! You can prepare all the foods your family loves in the equipped kitchen of your three-room apartment. 


2. To complete the tourist offer there are excellent quality services: there is a beautiful swimming pool for the exclusive use of guests, with a solarium area equipped with umbrellas and sunbeds. The garden surrounding the swimming pool, large and green, will welcome you if you want to relax or play with your children. We remind you that each apartment guarantees a parking space and that there is wi-fi throughout the structure. Furthermore, the reception can inform you about events and excursions outside the structure and can help you to rent a boat or a buoy for your vessel. 


3. The location is decidedly privileged, just a few minutes from the historic center of the town of Manerba and a short walk from one of the most beautiful beaches in Manerba. This allows you to reach the lake for amusing dives in total safety and comfort, without having to move by car and perhaps reach the center in the evening for events, fairs and shopping.